Speed up your
cert
review process
Store and manage vendor certs in one place, create a streamlined workflow, and process certs in real-time.

Bring your team together

Organize incoming shipments and certs and align your team with a centralized and searchable shared dashboard. 
Move parts faster
Eliminate delays in your receiving and review process with the digital tools you need to move parts faster.

Get updated certs in one click

Send a request for certs to your vendor when certs are missing or inaccurate, eliminating delays and keeping your process flow in one channel.
Boost traceability and compliance with stronger oversight of vendor documents
Ensure authenticity and validity of vendor certs

 
SmartCert's ability to search and review cert packages for accurate and complete information will drive productivity for your teams and reduce the risk of creating compliance issues and passing along inadequate documentation to your customers.
Maintain

visibility into the status of certs and shipments
Centralized workflows mean better communication and visibility with incoming shipments and documentations. View the status of a shipment and corresponding certs, maintain versioning history and updates to a cert package. 
Upgrade your tools
Smart tools mean more efficient processes and faster approval times. Your team can review, approve, and digitally sign and stamp certs quickly and with confidence. You'll see when certs were approved, and those that are pending updates.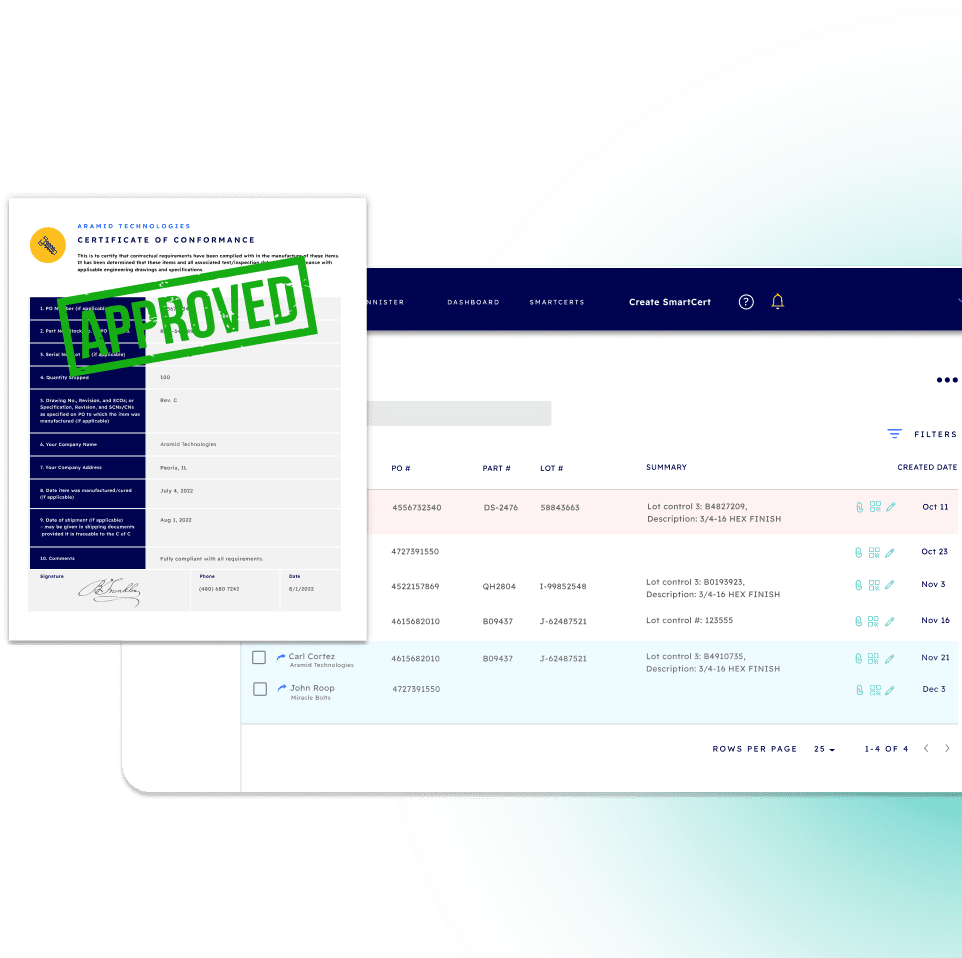 RELATED FEATURES you may be interested in
See what else SmartCert can do
Automated Receipt of Certs

Cert Processing Tools
Centralized Dashboard

Cert Creation And Delivery

Traceability
Cloud Storage
Automated receipt of certs


Cert Creation and Delivery

Ready to streamline how
you manage your certs?
SmartCert has everything you need to seamlessly receive, manage, create, and share your certs. Book a discovery call today to get started.