Certs move faster with SmartCert
Deliver standout service and delivery automation by putting the tools your team needs at their fingertips.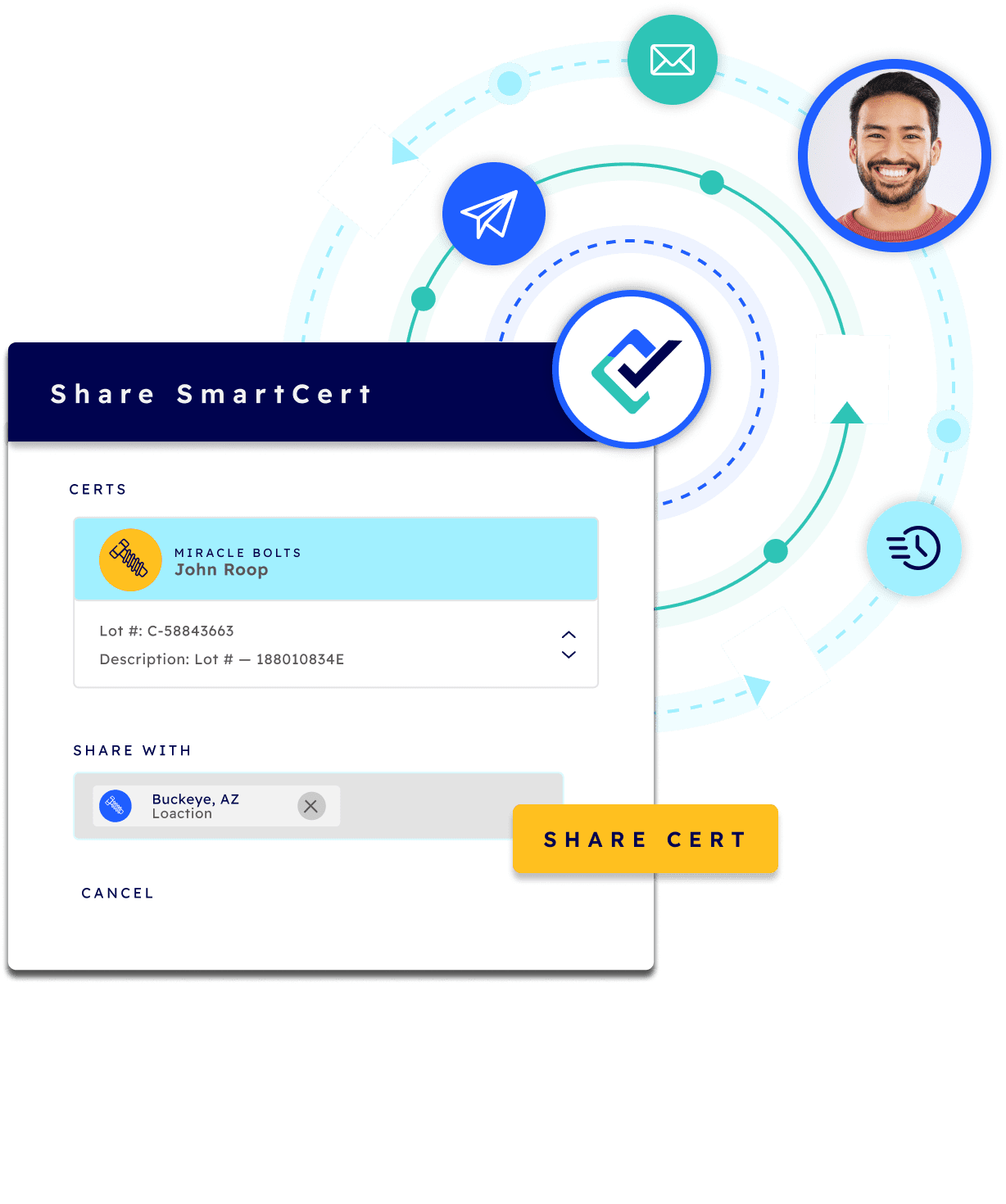 Simplify your cert process with the cloud platform that improves accuracy, sustainability, and cost effectiveness.
Remove complex and redundant processes
Drastically cut down on the time it takes to process and create cert packages.
Deliver 24/7 self-service tools and access
Provide instant, centralized access to certs to expedite approvals and payments by your customers.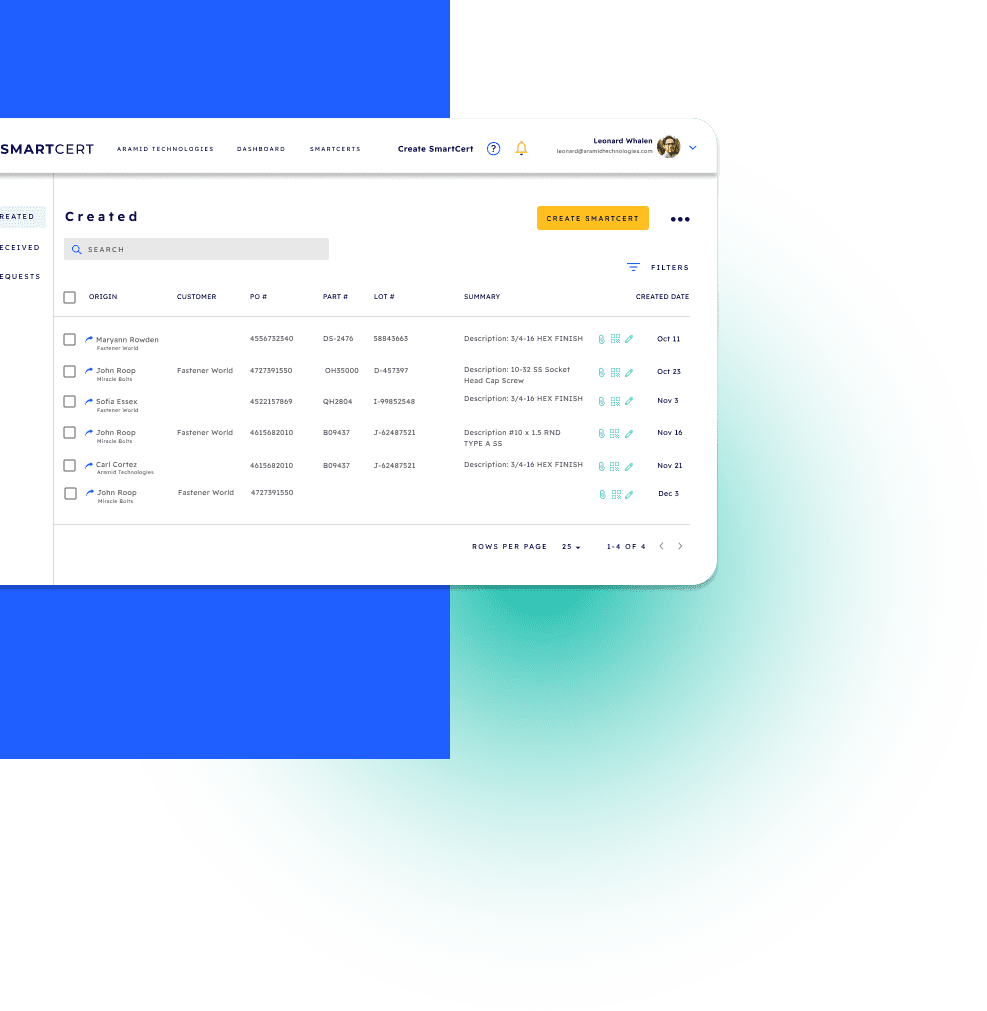 Simplify the cert creation process
Spend less time and resources building cert packages and more time on the work that matters. Digital automation drastically improves throughput and reduces human error.
Centralize your workflow

Reduce manual steps in building cert packages

Enhance collaboration among departments with a single dashboard

Eliminate costly errors and strengthen your approval process

Copy or adjust cert packages in fewer steps to accommodate specific cert requirements
Eliminate costly delays on customer payments. Avoid certs sitting in an email inbox or on the dock and have confidence your paperwork won't hold up the approval process.
Deliver certs in real time with the click of a button

See when certs were sent and who received them

Easily manage drop shipments and express orders

Search, sort, and filter to find the certs you need to send with a shipment

Generate reports to align orders with paperwork

Leverage SmartCert's virus and malware document scanning when sending (and receiving) documents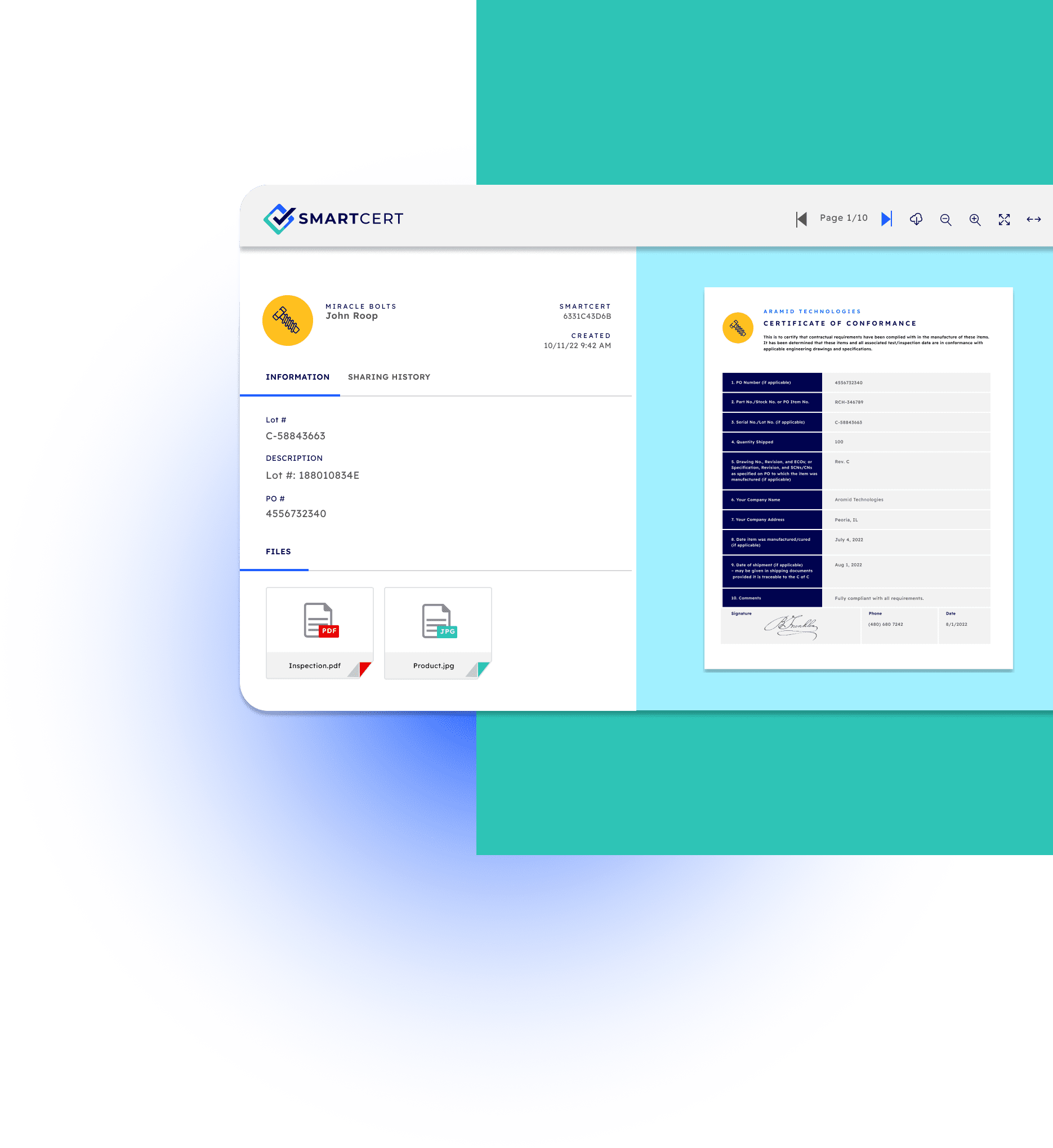 Eliminate quarantined parts and missing paperwork
Expand and accelerate access to cert packages by giving customers a centralized repository. Customers can add unlimited users to streamline the approval process and eliminate communication delays.
Keep certs with parts using a SmartCert QR code

Expedite approvals by sending updates to cert packages in real-time

Give customers free cloud-based backup and redundancy of the certs you send

Maintain the integrity of the part and its paperwork

Check the box on continuous improvement
Make manual processes and lost certs a thing of the past.
Support a more consistent, efficient customer experience. Keep customers happy by ensuring everyone spends less time managing and looking for certs.
Boost traceability and visibility

Demonstrate that the right certs reached the right person at the right time with a highly-visual cert management process.
Provide multi-team access
Ensure everyone has the information they need with definable, role-based access. Transform cert management from an individual task to a team-based effort that fully supports remote work.
Introduce SmartCert to 
your customers
Educate your customers on your upgraded cert process and follow our best practices using customizable templates and resources.
RELATED FEATURES you may be interested in
See what else SmartCert can do
centralized dashboard

cert processing tools

Cert Creation and Delivery
cloud storage

traceability

Enhanced Security


Cert creation and delivery


Ready to streamline how
you manage your certs?
SmartCert has everything you need to seamlessly receive, manage, create, and share your certs. Book a discovery call today to get started.