Automated receipt of certs
Get the speed, control, and access you need to move product
Eliminate the barriers to approving parts, materials, and processes. Increase throughput and improve visibility with vendor certs.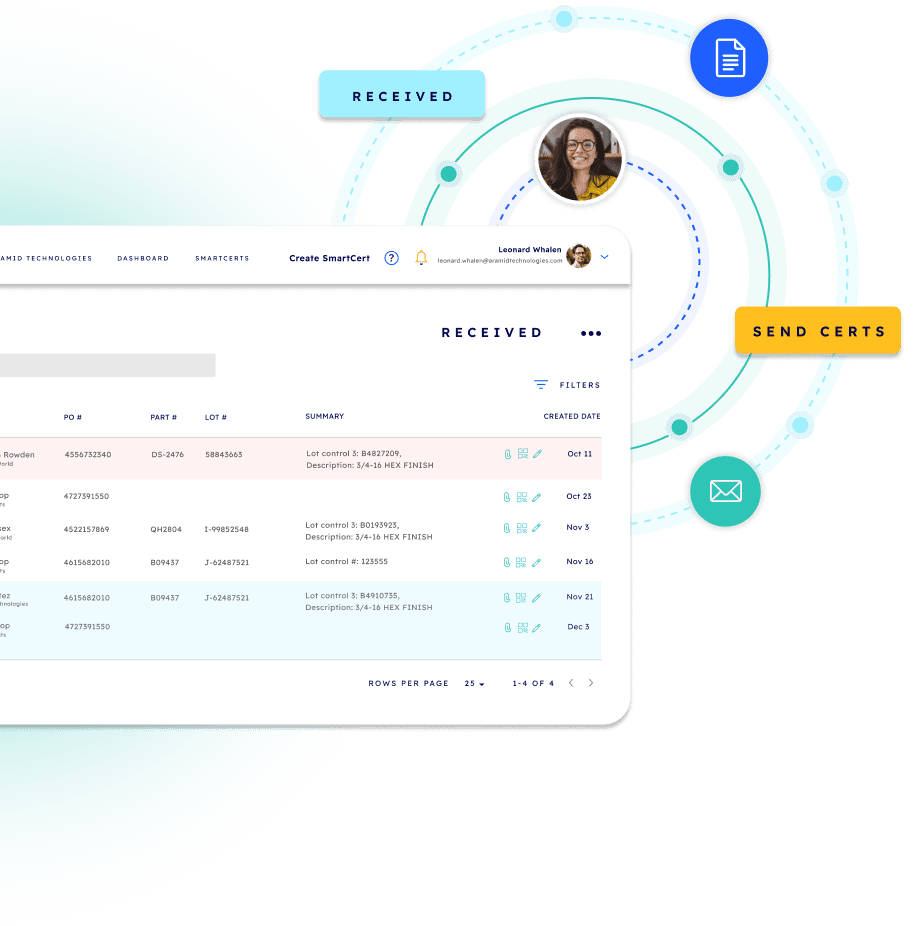 Turn vendor emails and documents into SmartCerts
Create a streamlined and standard process for receiving certs, even if your vendors aren't on the SmartCert network.
Centralize your team and workflow
Get rid of inefficient workflows and document silos with a powerful, shared dashboard.

Approve or reject certs
Quickly and easily search documents to confirm information is provided and accurate. Digitally sign, stamp, or reject certs with the click of a button.
A better way to work with vendors
Ditch the email
Lessen the load in your inbox and transform vendor certs into searchable data and neatly organized documents on a powerful and centralized dashboard. Easily locate and manage incoming certs and give your team the tools and access they need to review and process documents.
Receive and process certs quickly
Missing certs requires more time from your team and less time on the work that matters. Using one shared location to automatically receive digital certs eliminates costly delays for once and for all.
Get real-time updates
Instantly send a request for certs when data is missing or inaccurate. Updated certs are received via SmartCert with versioning history data and reporting to help with vendor scorecards and performance insights.
RELATED FEATURES you may be interested in
See what else SmartCert can do

Approve or Reject Certs

Cert Processing Tools
Centralized Dashboard

Cert Creation And Delivery

Traceability
Cloud Storage



Cert Creation and Delivery

Ready to streamline how
you manage your certs?
SmartCert has everything you need to seamlessly receive, manage, create, and share your certs. Book a discovery call today to get started.